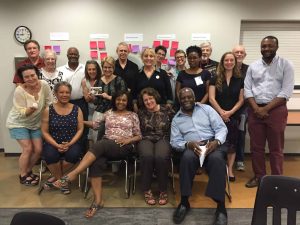 Since 2015, over 250 people from throughout the Greater Richmond Region have taken part in a workshop called "Living the Pledge to End Racism."  The Richmond Pledge to End Racism is a personal pledge based on The Birmingham Pledge, "To eliminate racism and prejudice, all over the world, one person at a time." And the Richmond Pledge is also more than that, because a personal pledge cannot stop there. One person cannot dismantle systemic and institutional racism by themselves. They must do it in concert with other committed people.
The Richmond Pledge to End Racism is a community-wide effort, sponsored by First Unitarian Universalist Church of Richmond, to address racism in all its forms. Its goal is to develop confidence and competence in identifying and addressing issues of racism wherever it lives.
As part of this workshop, participants will develop a community of support and an understanding of how to use support in deepening their work in building a just and equitable multicultural world.
The Richmond Pledge to End Racism is offering its next "Living the Pledge" workshop on October 6 and 20, 2018, at Richmond Hill. Representatives from Richmond-area faith communities who are interesting in bringing the Pledge to their congregations are especially invited to participate.
For more information about and to register for upcoming Living the Pledge Workshop, visit Living the Pledge Workshops.
Download a promotional flyer about the October 2018 Living the Pledge Workshop at Richmond Hill