Start off 2018 with a commitment to ending racism!
Join us January 20 and 27, 2018, as we offer another Living the Richmond Pledge to End Racism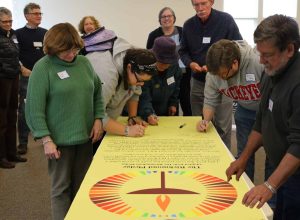 workshop. This workshop, based on the Birmingham Pledge provides participants an in-depth exploration of how racism permeates our lives and what we can do about it.  Learn to develop your capacity to challenge racism wherever it exists. Make commitments that will have a positive impact on the Greater Richmond Region. This two-day workshop is being offered by the Unitarian Universalist Community Church of Glen Allen, 11105 Cauthorne Rd, Glen Allen, VA 23059. Find our more and register today.