Living the Pledge Workshop Resources
The following materials are referenced in the Living the Pledge workshop and participants are asked to review them prior to the module in which they are planned. You can expect to spend two to three hours preparing for the workshop.
Module 1: Foundations for Understanding
Definitions
READ: Definitions from Tim Wise (PDF)
Module 2: Pledging to Recognize and Confront Bias
Implicit Bias
TAKE: Implicit Association Test (Online test)
Click "I wish to proceed" at the bottom on the page and then scroll down to the Race test. You can choose to take others if you want, but at least take that one. Print your results when you're finished so you have them to bring to class.
After you take the test,
WATCH: Dateline episode: Implicit Association Test (Video 10:19)
Module 3: Speaking Up against Microaggressions
READ: Racial Microaggressions (PDF)
Note: this articles starts out as a heavy academic read but has some excellent examples as you move through the article.

READ: Speak Up Handbook (PDF)
READ: Speak-up Six Steps Tips (PDF)
Module 4: Structural and Institutional Racism
History of Race and Racism
READ and REFLECT: Living the Pledge Reader on Whiteness (PDF)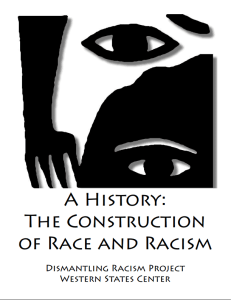 READ: A History: The Construction of Race and Racism (PDF)
OPTIONAL: Dismantling Racism – A Resource Book for Social Change Groups (PDF) (includes A History: the Construction of Race and Racism)
OPTIONAL:  A Brief History of Jim Crow Laws – Various Links from University of Southern California
Module 5: The Movement for Black Lives
READ: A Herstory of the Black Lives Matter Movement
READ: Black Lives Matter Guiding Principles
READ: 11 Major Misconceptions About the Black Lives Matter Movement
Module 6: Personal Commitment to Ending Racism
READ: White Solidarity with Black Lives Matter
READ and REFLECT: On Making Meaningful Pledge Commitments
READ: What you can do to eliminate racism
READ: Living the Pledge Commitments and Next Steps
---
For Small Group Facilitators
READ:  Talking About Race Notebook (PDF)
For Leaders
Explicit and Implicit Bias (PowerPoint)